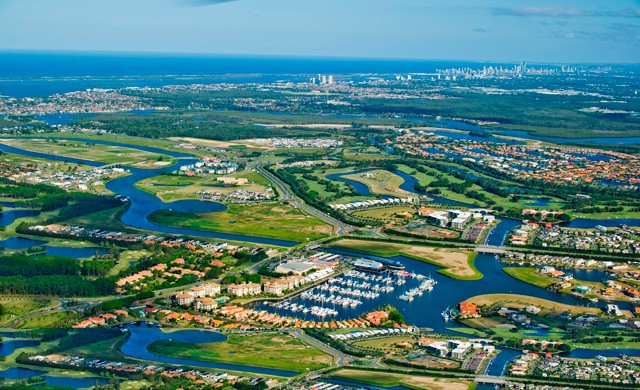 North Gold Coast, 19km from Surfers Paradise.
The northern Gold Coast's Hope Island is home to the upmarket Sanctuary Cove and Santa Barbara developments, which have grown in prestige and value over the past 20 years. With a raft of well-planned community facilities, it is easy to see why.
The continual development of Hope Island and surrounding areas, conveniently located in the growth corridor between the Gold Coast and Brisbane, has seen the area grow steadily over recent years. The Hope Island area is a very popular part of the Gold Coast, with its close proximity to all amenities and it attracts a range of buyers.
Families are well catered for, with plenty of community facilities and services, located close to 10 schools with shopping centres and theme parks and the Pacific Motorway only minutes away. However, the main buyer demographic is retired or semi-retired couples with interests in boating and golf.

There are many award winning golf courses in the district, including Hope Island Resort, the Pines Private and the Palms Golf Courses.
The majority of home ownership on Hope Island is group titled offering a wide range of new prestigious and well-secured developments with both dry and wet blocks designed to provide a safe environment for families.
For buyers looking for something more exclusive, the Hope Island Resort offers a world-class golf course and million-dollar homes.
The beauty of the area, deep-water mooring facilities, luxury housing developments and access in and out of the neighbouring Coomera River area, all contribute to help make Hope Island one of the Gold Coast's most prestigious suburbs.